About SWIU

USA Main Campus Front Gate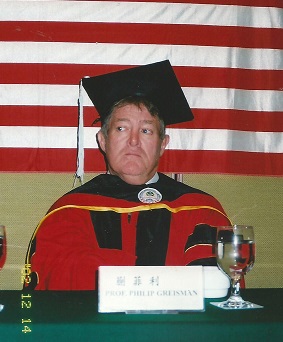 President, Philip Greisman, Ph.D.
SWIU continues its commitment to quality educational programs with a global perspective. In an evolving role with international partners, cooperative teaching locations with on-site professional instruction and continuing education accessible to working adults provide enhanced opportunities for personal economic growth and cultural development.
Personal achievement and career success in today's competitive world demands knowledge, experience and adaptability to the process of change. A degree from Southwestern University certifies that the individual has obtained college level education of high quality and incentives for self-progress, together with professional experience, all important elements in the destiny of the world citizen of the next century.
As an International institution SWIU maintains selective standards of admission appropriate and commensurate with those of other universities. Regardless of the locale, it is the reasonable expectation that every person accepted into an SWIU program has the background and capability of completing the specified educational objectives. It is an essential goal to insure that our graduates are prepared either for upward mobility in the workplace or for future academic pursuits. For this purpose universally recognized requirements form the central core of all programs.

Main Library
It will ultimately be the consistency of level and overall content in scholastic endeavors that allow students the option of transferring wherever in the world they wish, that create a commonality of intellectual experience in graduates conducive to worldwide interaction.
SWIU Is A Christian University Where God will raise men and women to meet the needs of the present and unborn generations.
Rev. Alfred G. Amooh, professor of SWIU is one of god's chosen servants for the body of christ, and also a prophet of god to the nations of the world.God's call and ministry upon his lift draws nations, cities and towns to the kingdom of god.Around the world, he is highly respected and he is called the ambassador of the kingdom of god. around the world multitudes hear him day and night in great miracle crusades. Rev. Alfred is author of other books. he also serves as the international president of Jesus crusade.
OUR FAITH:
We believe that the bible is the inspired infallible word of God.
We believe that God eternally exists as three in one person; the Father, the Son and the Holy Ghost.
We believe that the Holy Ghost indwells Christians, enabling them to live Godly lives.
We believe that the saved will be led to the resurrection of lift and the lost will suffer condemnation.
We believe in the Spiritual unity of Christian believers.
We believe in the redemption of power of shed blood of Jesus Christ on the cross. This power provides healing for human soul, spirit and body.
We believe in the deity of our Lord Jesus Christ.
We believe in his virgin birth.
We believe in the support and involvement in mission both home and abroad.
We believe in His bodily resurrection and ascension to the right hand side of God, the father.
We believe in His miraculous acts and His victorious and atoning death.
We strongly believe in the existence of heaven and hell.
We believe that prayer and fasting and studying of God's word is a duty which every Christian must undertake joyfully to the glory of God.
Students From All Over the World
Faculty and Students Dormitories
Research Libraries
Statue of Freedom and Happiness
Integrative Medicine Building
GYMS
University Church
Business School's Malls
Student Lounge and Unions
LABS
MEETING HALLS and CLASSROOMS
Board of Trustees Meeting
Class Activities
INTERNATIONAL SWIMMING POOLS